If you're looking for a reliable and efficient tractor for your farm, the Sonalika Tiger 50 might be the perfect choice. This 52 HP tractor comes with a reasonable price tag, ranging from Rs. 8.08 to 8.40 Lakh*. With a fuel tank capacity of 55 liters and a robust 3065 CC engine boasting 3 cylinders, the Sonalika Tiger 50 is designed to meet your agricultural needs.
Why Choose Sonalika Tiger 50?
The Sonalika Tiger 50 excels in multiple aspects, making it an excellent choice for farmers. With its Multi Disc Oil Immersed Brakes, you'll experience enhanced grip and reduced slippage, providing added safety during operation. The tractor's impressive mileage ensures cost-effectiveness in the long run, benefitting your farm's profitability.
As for its price, the Sonalika Tiger 50 offers affordability without compromising on quality. Its 2022 price of 8.08-8.40 Lakh* is tailored to suit the needs of hardworking farmers like you.
Performance and Features of Sonalika Tiger 50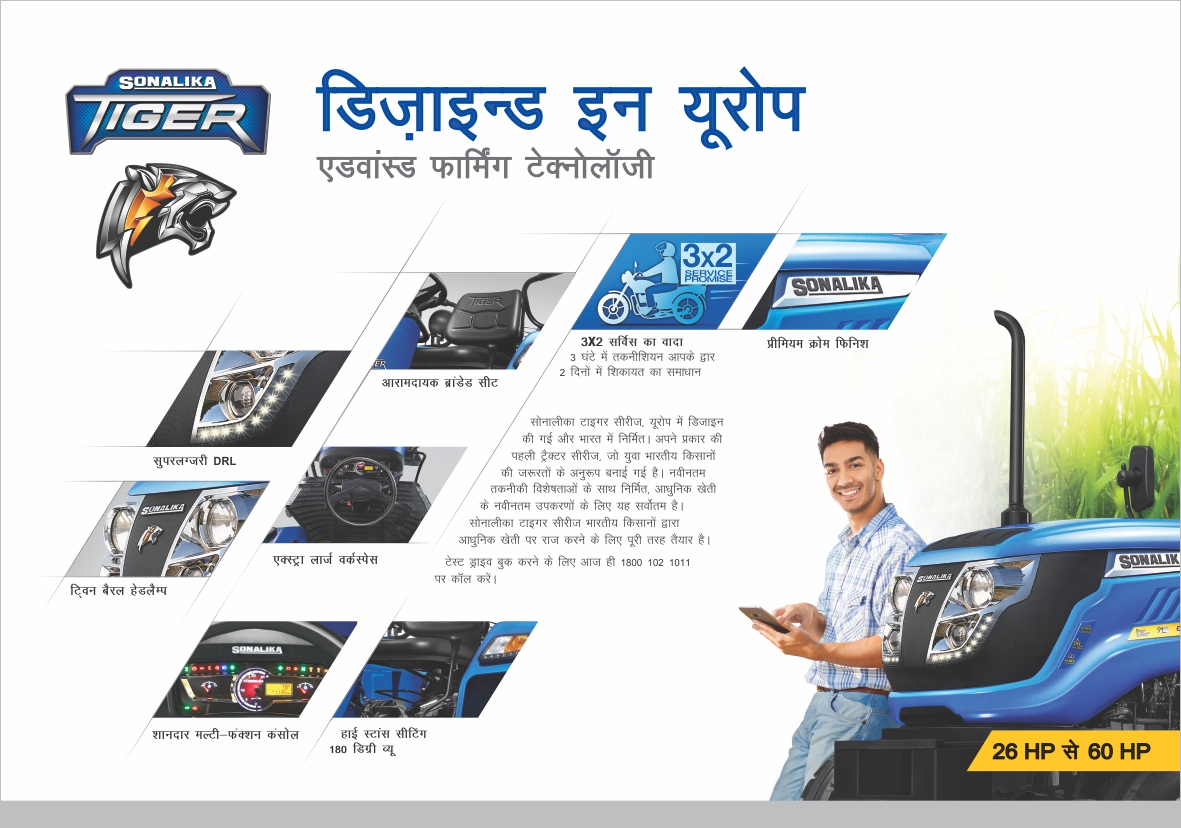 The Sonalika Tiger 50 is equipped with 12 Forward + 12 Reverse gears, providing versatility for various tasks. It also produces an impressive 44 PTO Hp and can lift up to 2000 Kg, making it an ideal companion for heavy-duty operations.
One of the key highlights of the Sonalika Tiger 50 is its excellent clutch system. It offers different options: 2WD with a Single/Dual clutch and 4WD with a Double-clutch, ensuring smooth and easy functioning. Moreover, the hydrostatic power steering enhances control and responsiveness, allowing you to maneuver with ease.
Sonalika Tiger 50: Technical Specifications
Here's a quick rundown of the key technical specifications of the Sonalika Tiger 50:
No. of Cylinders: 3
HP Category: 52 HP
Engine Capacity: 3065 CC
Engine Rated RPM: 2000 RPM
Cooling: Coolant Cooled
Air Filter: Dry Type
PTO HP: 44
Torque: 210 NM
Transmission Type: Constant Mesh with Side Shifter
Clutch: 2WD with Single/Dual clutch and 4WD with a Double Clutch
Gear Box: 12 Forward + 12 Reverse
Forward Speed: 39 km/h
Brakes: Multi Disc/Oil Immersed Brakes (optional)
Steering Type: Hydrostatic Power Steering
Power Take-Off Type: Reverse PTO
PTO RPM: 540
Fuel Tank Capacity: 55 liters
Hydraulics Lifting Capacity: 2000 Kg
3-Point Linkage: 1SA/1DA*
Wheel Drive: Both
Front Tyres: 7.50 x 16
Rear Tyres: 14.9 x 28 / 16.9 x 28
Additional Features and Warranty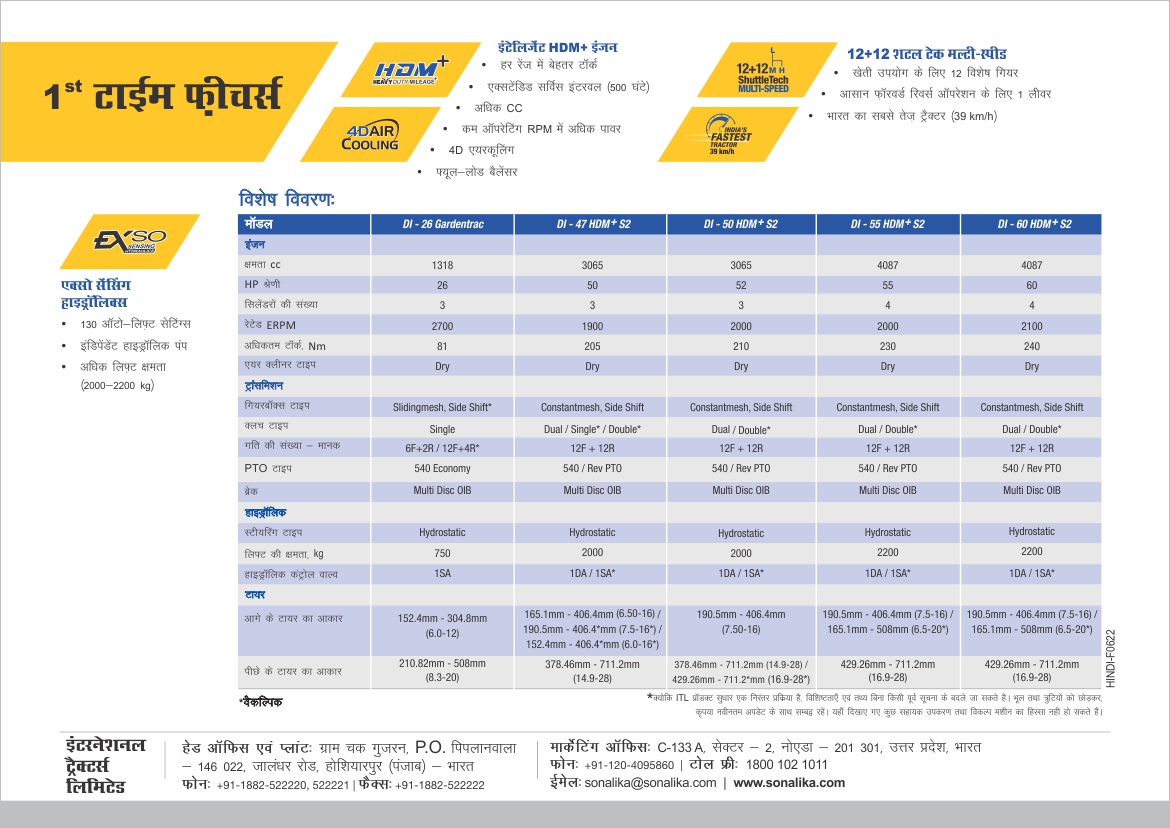 The Sonalika Tiger 50 comes with various useful accessories and features such as a Hood, Bumper, Top link, Tool, Hook, Forward-Reverse Shuttleshift Gear, Head Lamp with integrated LED DRL, Work Lamp & Chrome Bezel, Fender Lamp with LED DRL, Combination Switch, Lever Type Steering Column mounted with illumination, Instrument Cluster with integrated Digital Hour Meter, Service Reminder with Buzzer, Digital Clock, Air Clogging Buzzer & Chrome garnish, Single piece front hood with Gas Strut, Flat Platform for Operator, Deluxe Operator Seat with Inclined Plane 4 Way Adjustment Adjustable Front Axle, 4WD, Radiator with Front Trash Guard, Adjustable Heavy Duty Tow Hook, and Front Weight Carrier.
Sonalika offers a remarkable 5-year warranty on the Sonalika Tiger 50, ensuring peace of mind and support for your investment.
Explore More with Tractor Baba
Tractor Baba is your go-to source for the latest information on the Sonalika Tiger 50, including on-road prices. For the most recent reviews, details, and tractor comparisons, keep checking our website. Our team of professionals is committed to giving you all the information you want so that you can make an educated decision.
Make the Sonalika Tiger 50 a part of your farm and experience enhanced productivity and efficiency. Call us right now for further details, or contact us via our website. Our helpful staff is prepared to help you select the ideal tractor for your farming requirements.
Remember, at Tractor Baba, we're committed to making your tractor-buying journey easy and straightforward, so you can focus on what truly matters – nurturing your farm to success.
*Prices are indicative and may vary.
Status: Launched.